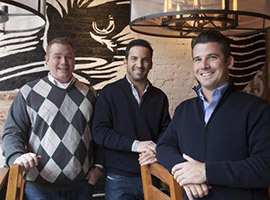 The newest restaurant at 84.51 Building brings unique concept
· Business Courier · Oct 15 2015 ·
The new eatery owned by a popular local restaurant group that's headed to the 84.51 Building will employ a unique concept, the Enquirer reports.
Thunderdome Group will open Maplewood Kitchen and Bar on the first floor of the new building at 100 W. Fifth St. in late January or early February. The company, run by Joe Lanni, John Lanni and Alex Blust, also owns Bakersfield, The Eagle and Krueger's Tavern.
Maplewood was named for the street in Hamilton where the Lanni brothers grew up and brings to mind its focus on breakfast. It will also serve lunch and dinner.
The 9.470-square-foot restaurant will be "fine casual," which means customers will order their meal at the counter but china, tablecloths and traditional restaurant furnishings will be part of the experience. Servers will bring orders to the table along with cocktails and dessert. It's designed to help busy downtown employees get a quality meal without losing a lot of time.
The menu will include healthy breakfast choices, while lunch and dinner will cost $8 to $12 per person. The dinner menu will be the same as what's offered at lunch outside of a few additional, more expensive entrees. Executive chef and general manager Bhumin Desai, who was most recently chef de cuisine at Jean-Robert's Table, will prepare the food.
Maplewood will join Mita's, the newest concept from Jose Salazar, and Via Vite chef and owner Cristian Pietoso's Americano Burger Bar in the building.