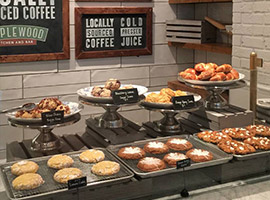 New Maplewood Kitchen and Bar offers West Coast-style cuisine
· WCPO · Grace S. Yek · Jun 20 2016 ·
Maplewood Kitchen and Bar, a new restaurant venture from the Thunderdome Restaurant Group, will open this week in Downtown's 84.51º Building at 525 Race St., in between Mita's and Americano Burger Bar.
Maplewood, a bright, 150-seat restaurant with white-washed woodwork and expansive windows, will offer West Coast-style cuisine, which emphasizes healthier food using local and seasonal ingredients.
Thunderdome Restaurant Group's Joe Lanni, John Lanni and Alex Blust have nearly 30 restaurants under their belts, including fast-casual burrito chain Currito and Over-the-Rhine eateries Bakersfield, Krueger's Tavern and the Eagle. Bill Coughlin joins them as a partner on this new concept.
Bhumin Desai, the former chef de cuisine at Jean Robert's Table, leads the menu development. He serves as the general manager and executive chef.
"We'll offer light, West Coast-style cuisine … that's healthy, light and flavorful," Desai said. Look for items like Avocado Benedict – a play on Eggs Benedict – sans the fat and cholesterol-laden hollandaise sauce. Instead, a lighter lemon and herb vinaigrette will sauce up this classic, along with asparagus and bread from Sixteen Bricks Artisan Bakehouse.
Spicy chicken tinga will liven up the menu with braised chicken, tostada, charred tomatillo salsa and fried egg. Then there are the quinoa cakes, served with sundried tomato and red pepper sauce and poached eggs.
"There are a lot of grains and 'super foods' on the menu," Joe Lanni added, referring to nutritionally dense foods like quinoa.